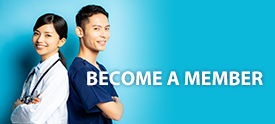 Annual meeting
Previous Annual meeting
Reflecting on the 119th Annual Meeting of the Japanese Dermatological Association (Fully Online for the First Time)
We held the 119th Annual Meeting of the Japanese Dermatological Association using a web system for 4 days from June 4. First of all, I would like to express my heartfelt gratitude to those of the Meeting Secretariat and all lecturers for enabling us to hold this event safely, with no major disturbance. The meeting was fully online for the first time in the history of the Association, and we only had 6 weeks to prepare for it after determining such a style. Please accept our apologies if you found it unsatisfactory in some respects.
The Department of Dermatology Keio University School of Medicine, association of its alumni, and Japanese Dermatological Association Office had prepared for this event over 2 years. We chose "connecting" as its theme, as we always realize the importance of "connecting people" and the strength we acquire by "being connected to someone". "Connecting" may be one of the most important words to us. It has been an unexpected pleasure for us to "connect" members of the Japanese Dermatological Association in different areas of Japan by holding this annual meeting online, unlike our past events.
We had more than 80% of all lectures previously register their video files for their scheduled lectures, agreeing to our sudden request after the determination of a fully online meeting. Some of the lecturers created such files for the first time. Unfortunately, we had to cancel some sessions, but we had video files registered for a total of 229 special and educational lectures, including 22 from other countries. We also had digital data previously registered for 111 general oral presentations, 415 general poster presentations, 38 general oral presentations in English, and 75 general poster presentations in English. But for such cooperation from lecturers and presenters, we would not have been able to hold this meeting. We sincerely thank them.
Concerning participants, their number was markedly larger than expected, as more than 5,900 members participated in the event. Thank you so much. Even those, who were busy in clinical practice, or had difficulty leaving their communities due to parenting or caregiving, could listen to our lectures as an advantage of online meetings, and this made us realize a high demand for this meeting style. Indeed, a member wrote to us: "I can hardly access meeting venues due to old age. It was good to have our annual meeting online". This is an important message for us to develop future perspectives on our annual meetings in a post-pandemic society.
On the other hand, it is quite regrettable that we could not prepare a platform for non-members to participate in this event. We have had about 1,500 non-members participating in our event each year. This year, it was not possible to share non-members' lectures in or outside Japan despite their submissions of video files. Our annual meetings provide important opportunities for members to exchange information with people showing an interest in dermatology and other related areas. They also play an important role in emitting information to society. I deeply regret that this year's event could not play that role.
The President's lecture was live-streamed on the first day, which was Thursday, and it achieved 2,151 views. Having cancelled overseas lectures, we re-streamed this lecture for financial reasons, and there were 951 and 840 views for the second and third times, respectively. Thus, a total of 3,942 members listened to this lecture. This figure is very unexpected and surprising. Personally, it gives me a lot of courage and energy. Thank you.
Furthermore, more than 2,000 members watched a symposium to discuss emergency measures against COVID-19 infection and a special symposium entitled: [Development of Technologies - Society and Healthcare Which Are Changing With a Social Crisis (Connecting Present and Future)]. The following lectures also achieved more than 1,100 views: [Educational Lecture 27: Latest Update and Useful Information on Food Allergies], [Educational Lecture 42: Latest Update on Pediatric Dermatology], and [Educational Lecture 43: Healthcare Systems and Ethics Dermatologists Should Know]. These figures indicate that members listened to our lectures in numbers that would not have been possible if these lectures had been directly held at meeting venues, and we made use of the advantage of online meetings, which do not limit the number of participants according to the seating capacity of each room.
In a questionnaire survey conducted by the Association, and achieved 48.3 and 42.2%, respectively. Thus, a total of 90.5% of all participants were satisfied with the 119th Annual Meeting. With regard to future meeting styles, 65.1% desired a hybrid of face-to-face communication and online meetings, whereas 28.3% desired online meetings only, providing an important basis for discussing this issue.
Lastly, I would like to extend my sincere gratitude to Dr. Yamagami, the Meeting Secretariat Manager, Dr. Takahashi, the Chairman of the Executive Committee, those of and from the Department of Dermatology Keio University School of Medicine, and Dr. Yamada and others managing the Association Office for preparing, coordinating, and holding the 119th Annual Meeting of the Japanese Dermatological Association.
Our struggle with COVID-19 infection keeps going on. I hope that all members of the Association take care of themselves, and further expand their clinical, educational, and research activities. Thank you very much.
Poster of the 119th Annual Meeting of the Japanese Dermatological Association
Streaming from a special stadium set up in a professor room
A view of the Association Office
Sweets that were first scheduled to be offered at a meeting venue