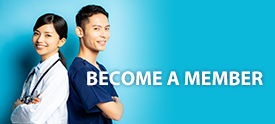 Messages
Leadership Dialogue Series: Interview with Professor Lars French, President of ILDS (1/4)
June 28, 2022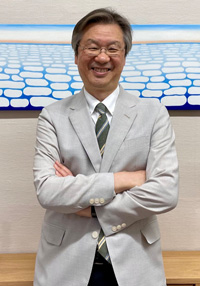 Interviewer: Professor Masayuki Amagai, President of JDA 
Thank you very much for joining us today, Prof. French. It is a pity we could not meet in person, but at least we could via Zoom. Let's begin the questions. The ILDS was formally founded in 1935 and has long been promoting skin health around the world. What is the mission of ILDS, and what are its major achievements so far?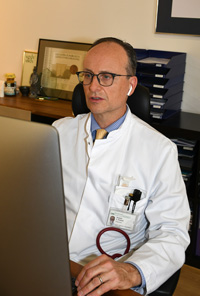 The mission of the ILDS is to increase awareness, cooperation, and communication within the global dermatology community, with the aim of improving high-quality education, clinical care, and research—everything needed to innovate and improve skin health at a global level. We have over 120 member societies, including the JDA, and thus are indirectly representing over 220,000 dermatologists. We try to be a voice for dermatology at the global level, such as through our official relations with the WHO. We have been working very hard for the last eight years to deliver on this partnership.
As for achievements, the World Congress of Dermatology (WCD) in Milan was our largest ever. Through the WCD, ILDS provides continuous medical education at a high level and covers all global themes in dermatology. We also worked with the WHO to design the International Classification of Diseases 11th Revision (ICD-11), which has already been launched and will soon be in our practices. In many diseases frequent in our field, morbidity is much more prevalent than mortality. It is important to consider the impact of skin disease on the quality of life of our patients, and this is newly in ICD-11 more adequately taken into account.
We also are developing Global Partnerships for Education and Care (GPEC), which is a program to bring together sister departments, allowing for exchange of know-how and increased quality of care. This is especially important in low- to middle-income parts of the world. By partnering up with a department in one of those regions, we can transfer knowledge and provide education through joint-grant rounds and technology. We seek to help raise the levels of their education of trainees, and overall medical dermatological care.
I really appreciate the leadership of ILDS, and especially the collaboration with the WHO on ICD-11. This is a big improvement from ICD-10.
We also do much humanitarian work through the humanitarian branch of the ILDS named International Foundation of Dermatology (IFD). The ILDS, together with its member societies, has long funded and supported a regional dermatology training center in Moshi, Tanzania, which has trained hundreds of dermatology specialists in Africa and also provides inpatient care. The IFD also does education through programs including GLODERM, where we mentor and educate resident and trainee dermatologists worldwide.
These are wonderful contributions in the humanitarian field. Next, I would like to talk about the WCD. My first attendance was in New York in 1992, and I was astonished by the energy that came from that memorable meeting. What was the first WCD you attended?
My first WCD (2007) was in Buenos Aires, Argentina, and it was a fantastic experience for me to see dermatology at all its breadth, interacting with educators from around the world. I trained in Switzerland and the US. However, I missed out on learning about so many dermatological diseases in Asia, Africa, and South America. Being able to interact with colleagues from those regions and learn about those diseases was enlightening.